The Industry Standard
Canadian Employee Benefits
Insurance Agency Software
Helping Employee Benefits Professionals Compete in a Digital World
There is always a way to make distribution more efficient, more productive and more profitable.

As an InsurTech that is what we do.
Why BeneOffice?
We have created a broad suite of products and services specifically designed to provide marketing, sales, and business management solutions. Our products encompass years of expertise across many facets of running a successful insurance practice to achieve your goals and take your business to the next level.
Powerful & Affordable

Empowering Insurance Professionals to compete in a digital world by managing critical parts of their operations at a price that fits your ongoing budget and needs.

All-In-One Application

Business innovation for your entire distribution network. A simpler way to have a client management system, evaluate quotes, analyze renewals, cross selling activity and more.

Clean Case Underwriting

Enhancing the flow through of transactions and reduce manual intervention, time and expenses from the process for both brokers and insurance companies.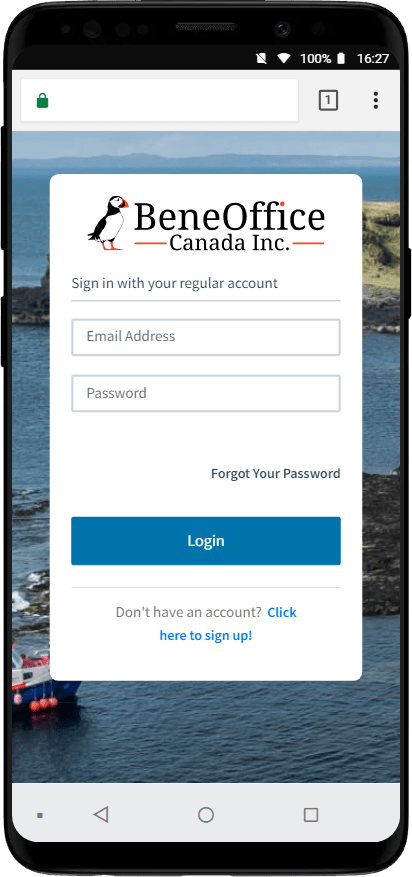 Any Time, Anywhere

Around-the-clock access to client management tools, product manuals and all the forms you will need. Anytime, anywhere, without friction or delay.

Forecasts + Insights

Creating intelligent interactions between Insurers, Brokers and Customers. Now the digital age is taking real time data and insights to drive profitable growth.

Hosted In Canada

Specifically designed for Employee Benefit Brokers across Canada. In a business environment where the end user security and compliance is everything.
Features
Built for the way you do business.
Let us find the right productivity solution for you.
To learn more click on a feature below.
Turn leads into customers with workflows
Follow up with consistency
Keep on top of all activities and deals
Visual sales pipeline – by month and by year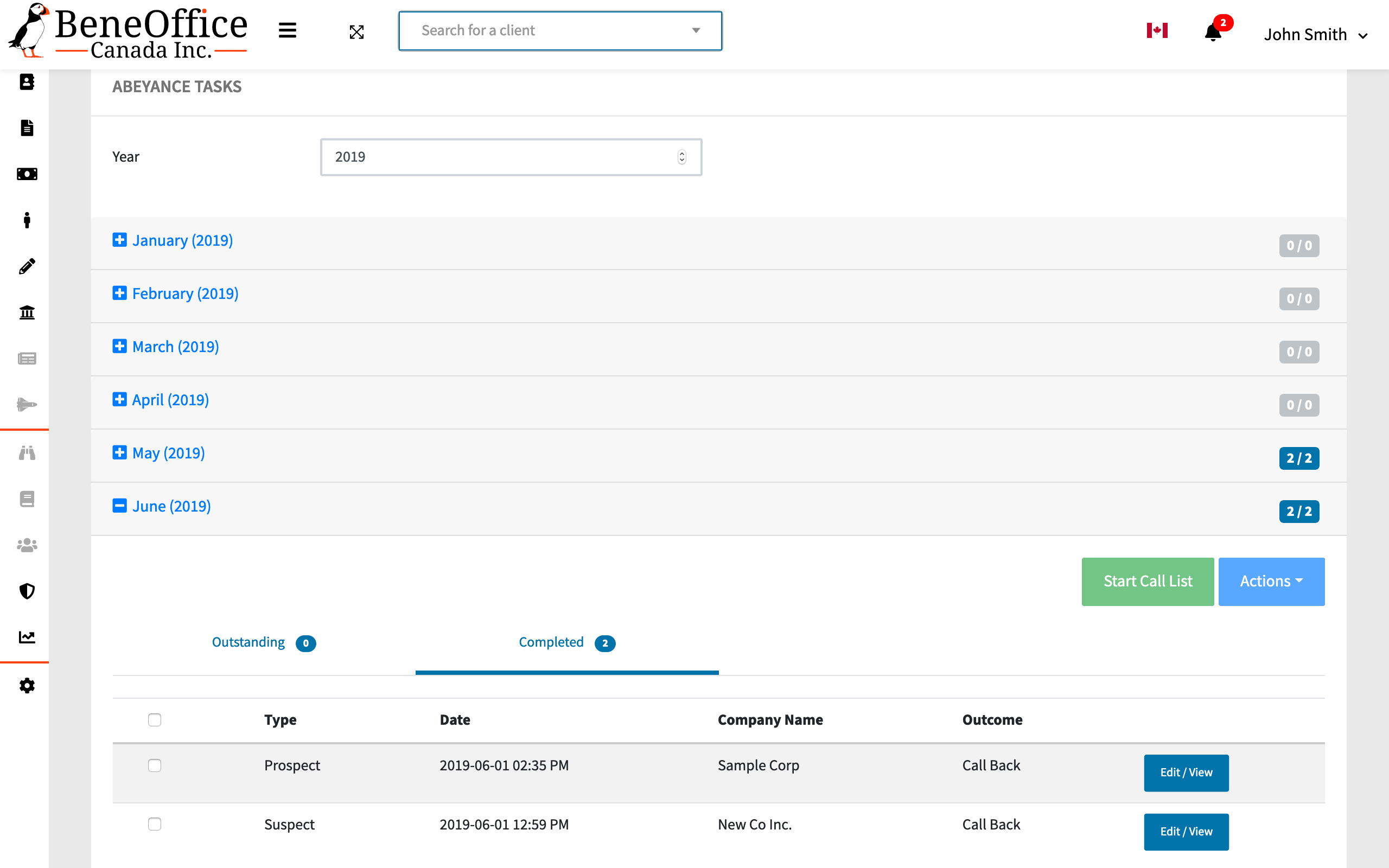 Meaningful interactions with no details forgotten
Easy to set up
All your client details in one spot
CSR, Marketing, Renewal and Sales teams informed and prepared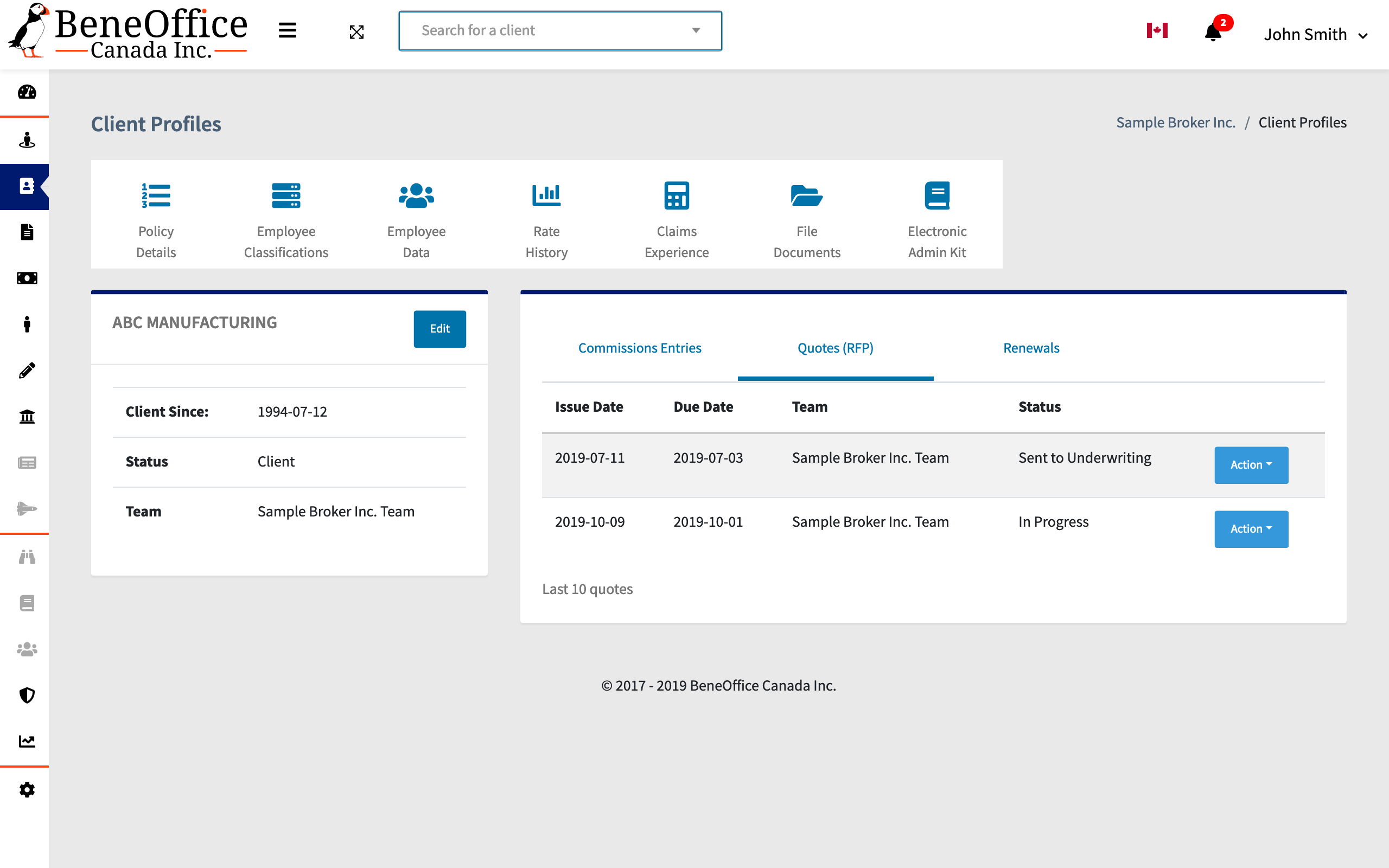 Run your back-Office operations efficiently
Insurance company quote identifier – who are the insurance markets
Quote process streamlines from specs, spreadsheets to client reports
Renewal analysis calculator to validate insurer pricing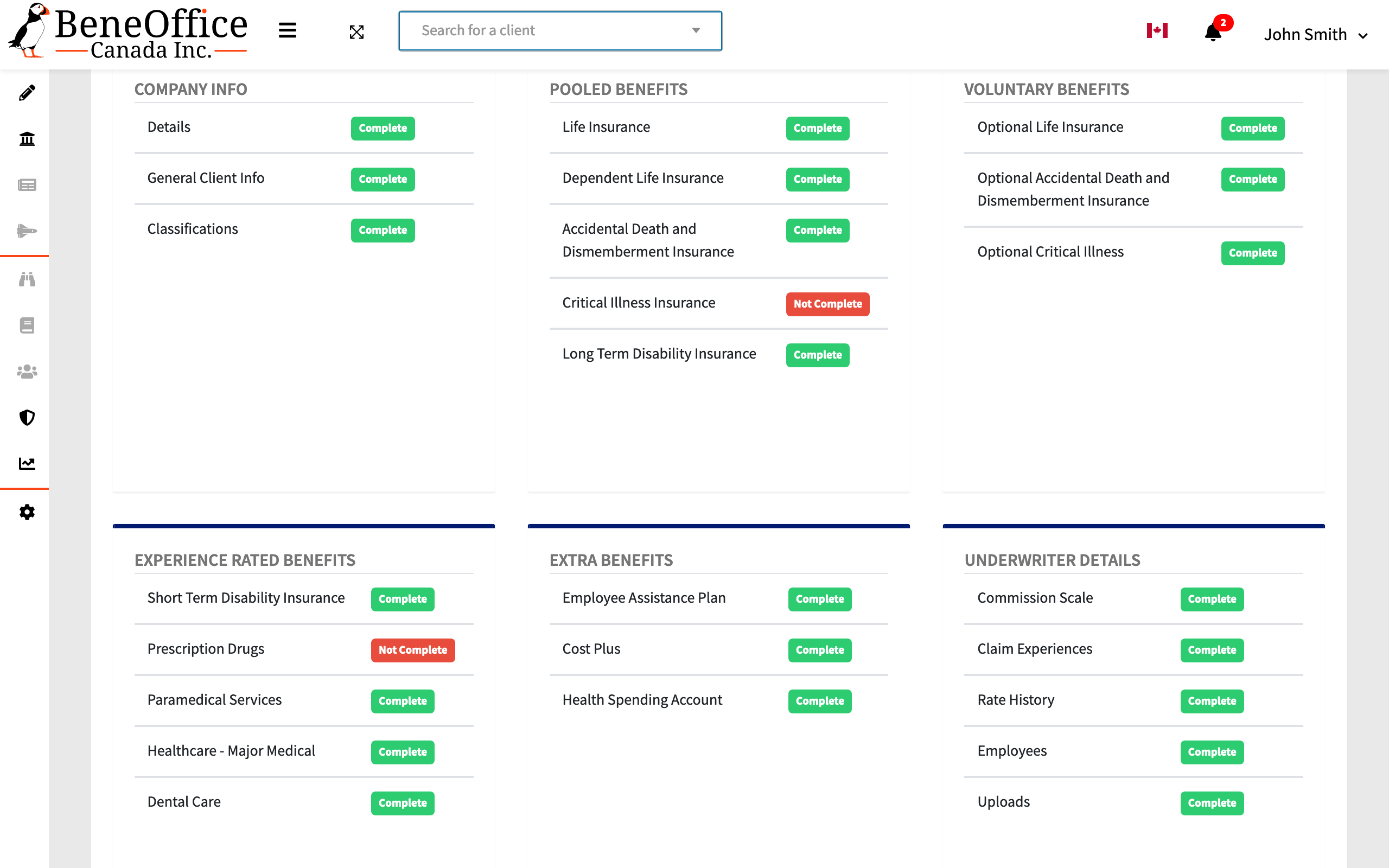 Tools for your group retirement specialists
Streamlined processes from specs, to options, including client reports
Group design options: RRSP, DPSP, DCPP, DBPP, TFSA, NRSP
Annual policy review process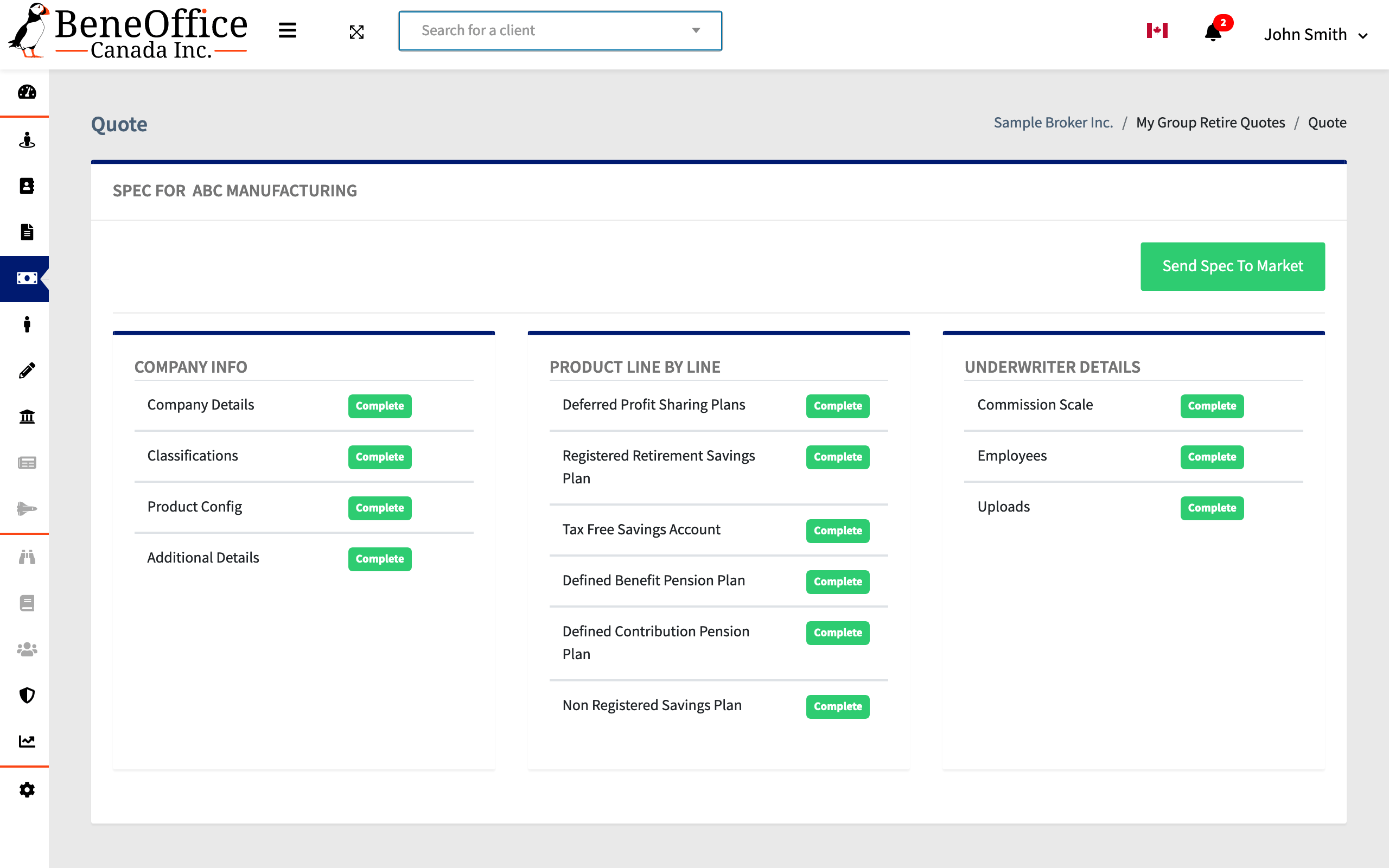 Make better decisions with valuable insights
Instantly see your business performance on your dashboard
Various reports to assist in running your business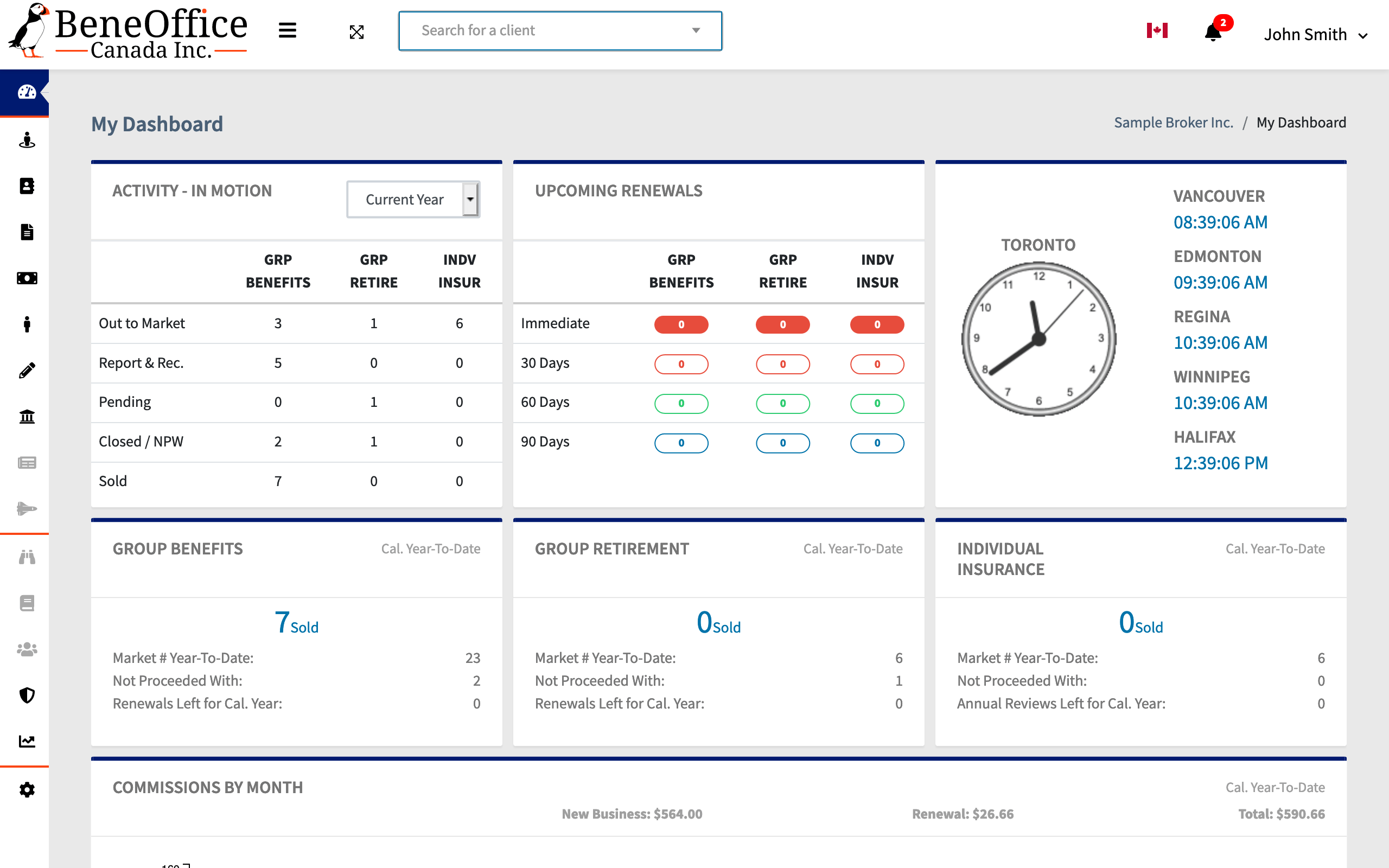 Manage your cross-Selling activity
Individual client profiles with policy details
Key Person – Life/DI/CI client quote reports
Access to Health, Dental and Travel quotes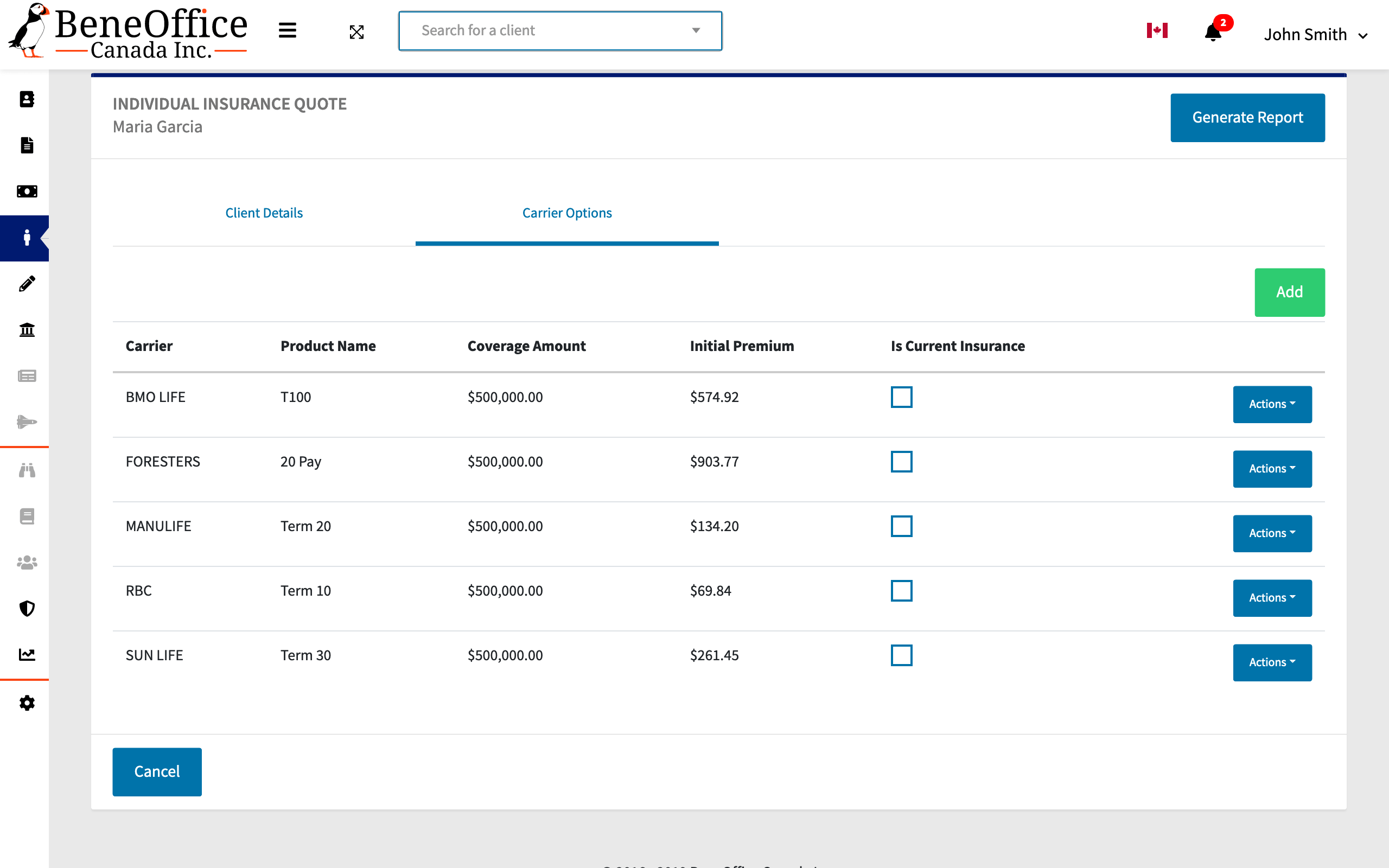 All the knowledge you need in one place
Electronic group administration kits
Insurer and supplier catalogue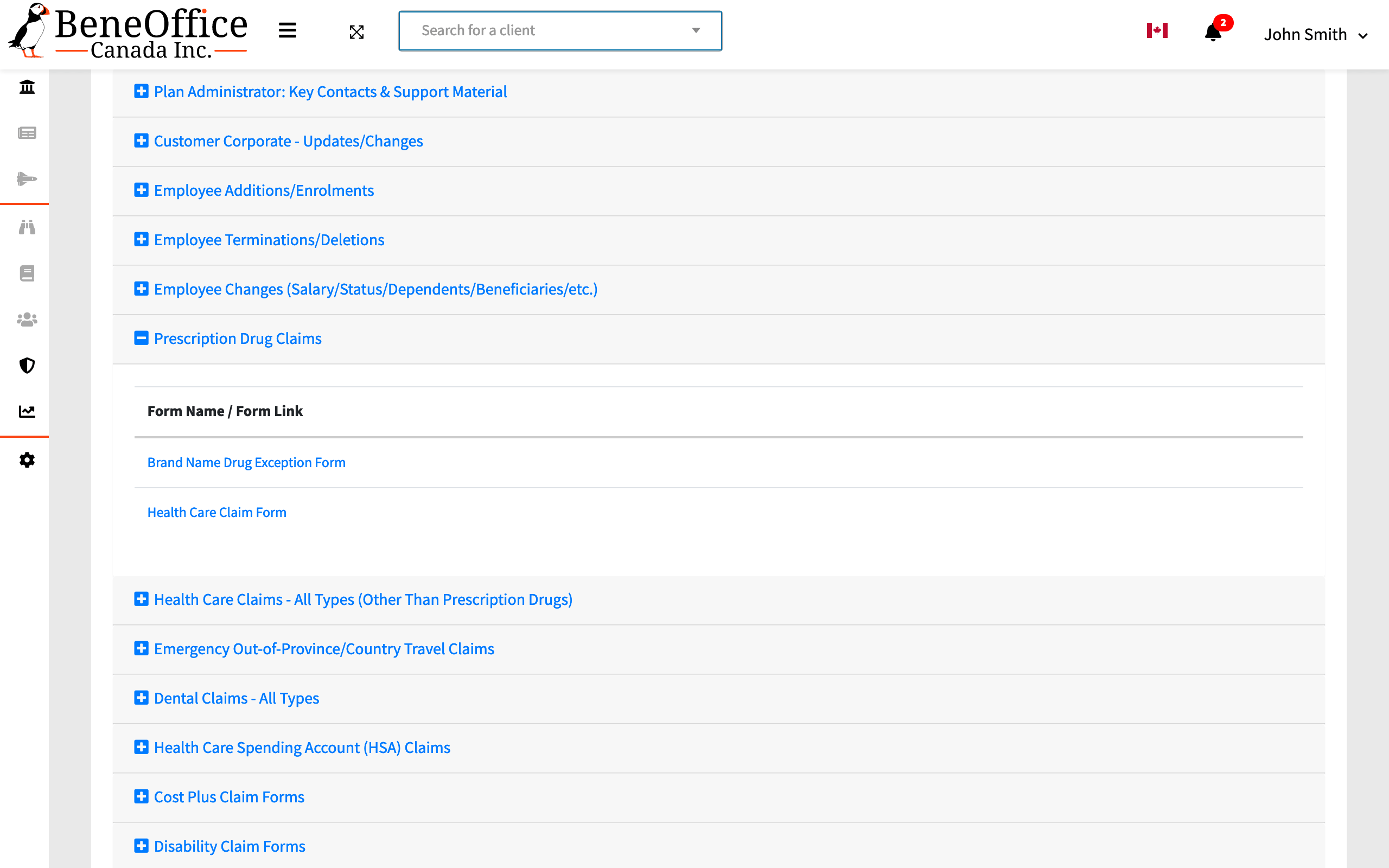 Know where your money is
Estimated commissions vs. actual
Easily set up brokerage house vs. producer splits
Detailed brokerage operations and sales producer reports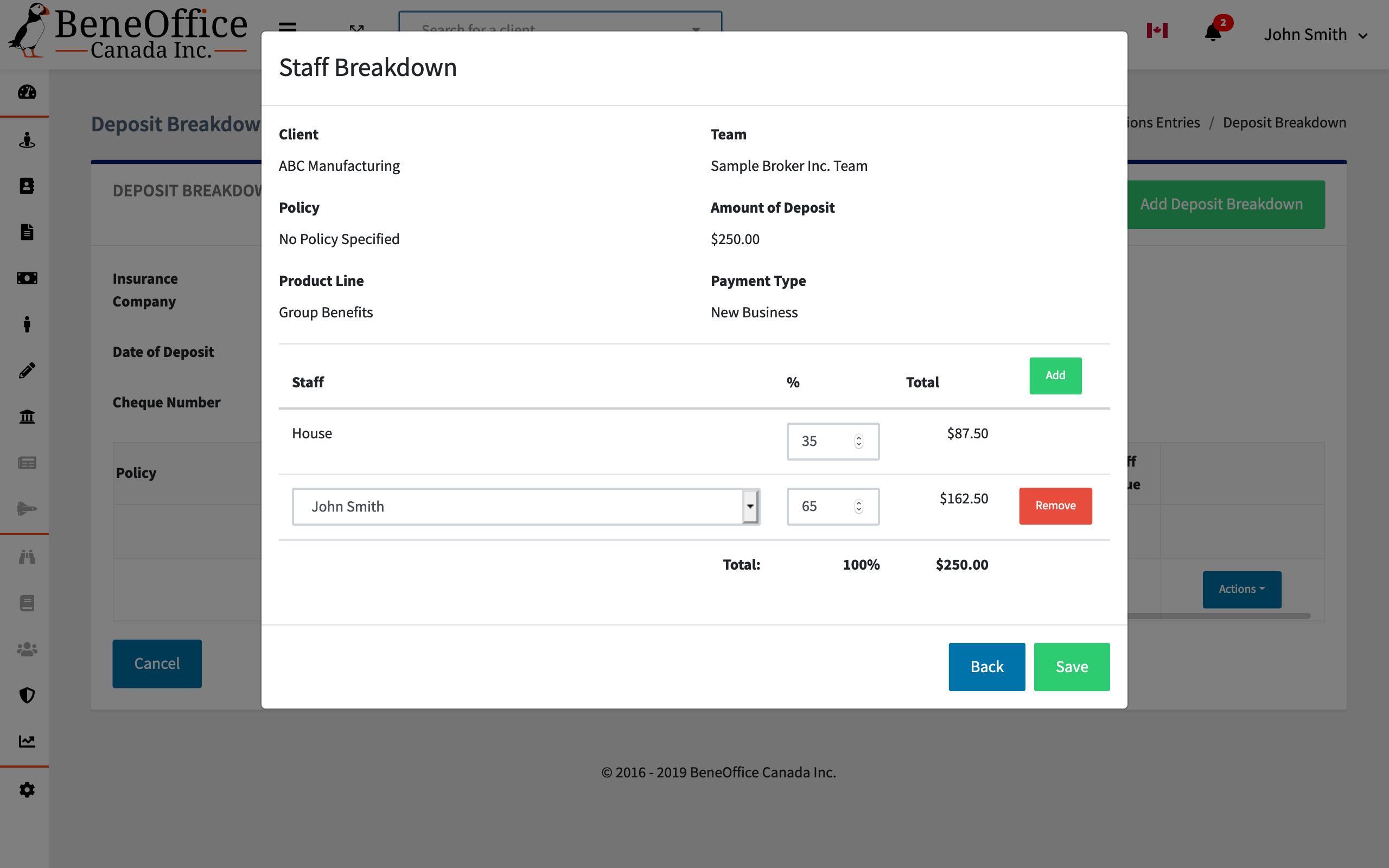 The behind the scenes for your organization
Business development
Human resources tools to manage your internal team
Budgets at both the brokerage and producer team levels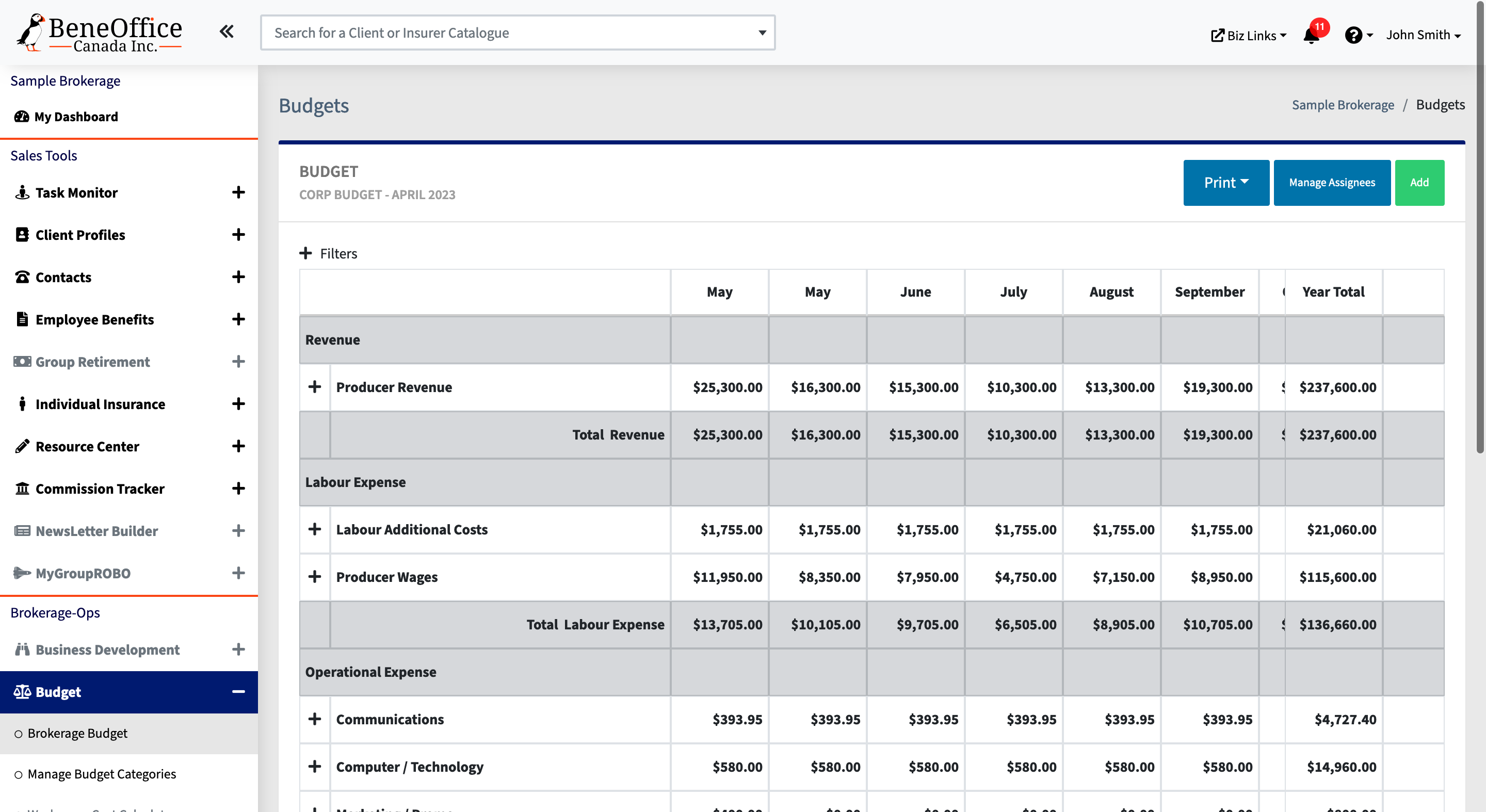 Regulatory and industry practices
Sales production disclosure and compliance forms
Corporate compliance and code of conduct templates
Tracking system for corporate and personal licences, E&O and CE credits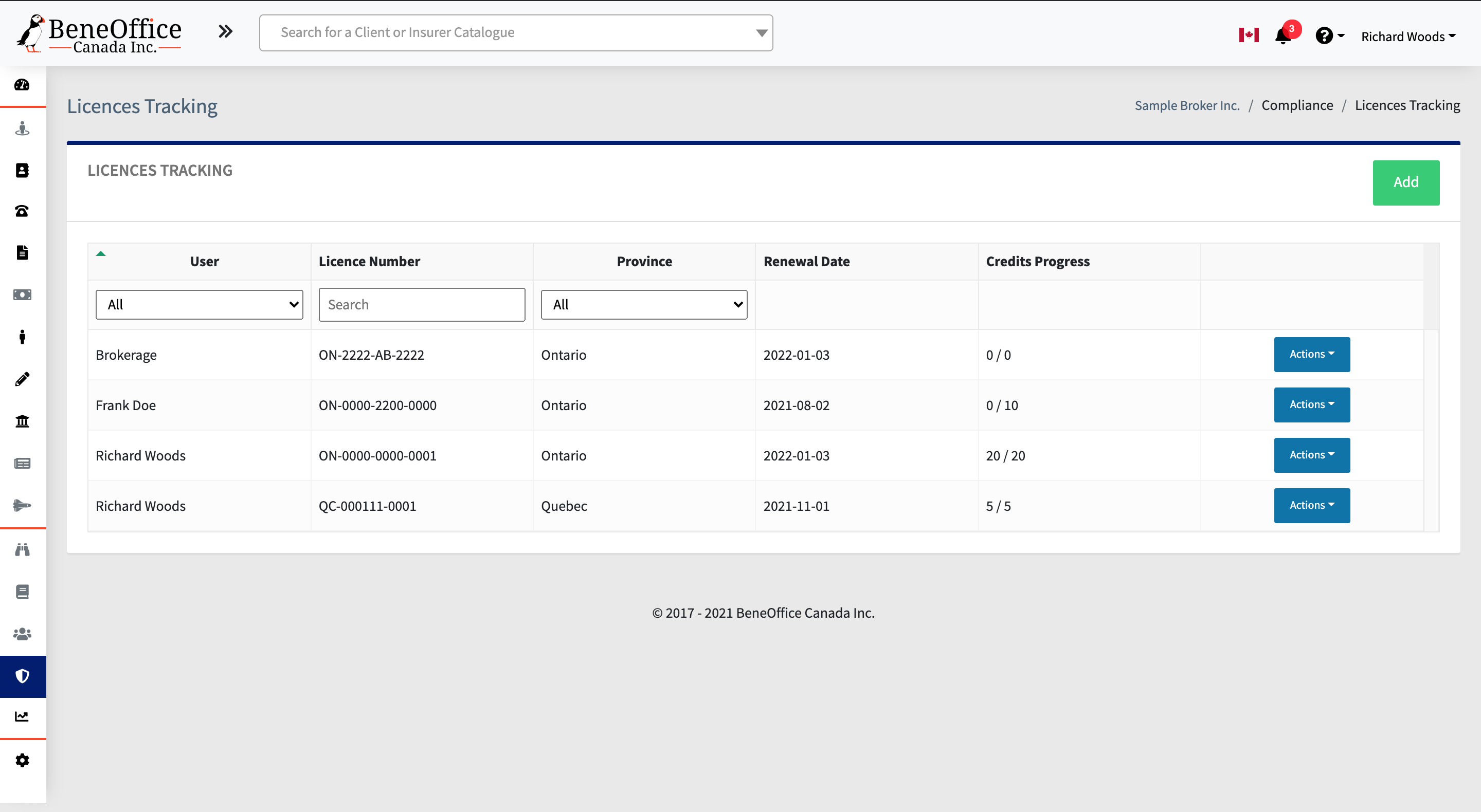 The distribution channel of the future
CURRENTLY UNDER DEVELOPMENT
Business-to-business consumer direct
Independent broker turn-key access program
Our broad digital platform provides all the pieces you need to accelerate your business making it more efficient, more productive, and more profitable.
Your InsurTech to Sell • Service • Renew Canadian Employee Benefits
Pricing
Pick The Perfect Plan For Your Team.
Knowing The Difference Between Cost and Value Can Increase Profitability.
Essentials
Core Package
$20 / Month
plus any applicable taxes
Price Includes 1-25 Users
Insurance Professionals Looking to Streamline and Scale their Processes.
Core includes:
My Dashboard
Task Monitor
Client Profiles
Contacts
Employee Benefits
Group Retirement
Reports
Broker Settings
---
Specs / RFQ
10 Free
SPECS / RFQs Monthly
$10 Each Thereafter
The first 10 SPECS/RFQs each month are free. After that, there's a $10 charge for each additional one in the same month.
---
Renewals
$25 / Renewal
$25 per Renewal Processed.
---
Best Business Value!
Complete
Broker Suite
$149 / Month
plus any applicable taxes
Price Includes 1-50 Users
Growing Teams Focused on Building More Together.
Everything in Core, plus:
Individual Insurance
Resource Center
Commission Tracker
Newsletter Builder
Business Development
Budgets
Human Resources
Compliance
---
Specs / RFQ
10 Free
SPECS / RFQs Monthly
$10 Each Thereafter
The first 10 SPECS/RFQs each month are free. After that, there's a $10 charge for each additional one in the same month.
---
Renewals
$25 / Renewal
$25 per Renewal Processed.
---
Customize
Precision Approach
Let's Talk
50+ Users
Managing Complex Partnerships on a Local, National or Global Scale.
Everything in Core & Broker Suite.
Customizable software empowers businesses to tailor solutions, optimizing workflows, enhancing user experiences, and aligning technology with industry demands. Create distinctive software that addresses challenges and unlocks growth opportunities.
Customize Your Plan to Suit
Your Business Needs.
Advancement Project
The Distribution Channel of the Future
Digital platform that automates direct sales and service processes for "Broker to Business" and "Group Account Executive to Broker" activities, requiring minimum human supervision. This feature will be offered separately from the current packages available to our users.
Future Development
Pricing Yet To Be Announced (TBA)
Gift Card
Gift Giving is All About Relationships.
Want to send a Thank You or maybe a Just Because gift?
NOTE: The intention of the Gift Card capability is for Group Account Executives, Regional Group Vice-Presidents, Canadian Insurance Companies and Others to reward and/or assist Insurance Brokers with Sales & Operation process efficiency by using the BeneOffice Canada software.
No matter what the occasion, BeneOffice Gift Cards make the perfect gift…any time of the year.
Need to reach us?
Contact us in a way that is convenient for you. We are here to help.
Contact Us
Email
New Sales:

Customer Support:
Please add these emails to your address book to ensure proper delivery of our emails.
Questions? Call Us!
Canada Wide:
Toll Free:

1-888-231-7489

Direct Dial:

519-453-5024

Schedule Call:
Mailing Address
BeneOffice Canada Inc.
PO Box 173 London Station B PO
London, ON, N6A 4V6
CANADA
Meeting Location:
Our office is open
Monday to Friday
9am until 5pm
Eastern Standard Time (EST)